When:
January 26, 2020
all-day
America/Los Angeles Timezone
2020-01-26T00:00:00-08:00
2020-01-27T00:00:00-08:00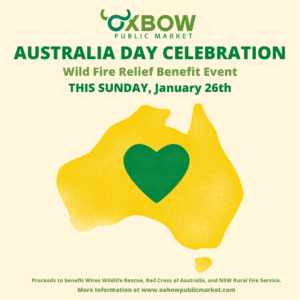 Oxbow Public Market Honors Australia Day with Wild Fire Relief Benefit Event
Sunday, January 26th, 2020
Popular Market and Merchants to Raise Money for Wildfire Relief, Wildlife Rescue and Rehabilitation
January 22, 2020, Napa, CA – Oxbow Public Market, anchoring the popular Oxbow District of downtown Napa, is honoring Australia Day on Sunday, January 26th with a market-wide benefit to raise awareness of the devastation caused by the Australian wildfires and help raise money for wildfire relief and wildlife rescue and rehabilitation.
Participating Oxbow merchants will serve up themed specials and dishes, with proceeds earmarked for Wires Wildlife Rescue, Red Cross of Australia, and NSW Rural Fire Service. Merchants offering specials for the day include, but are not limited to, Ritual Roasters, Five Dot Ranch, Oxbow Wine & Cheese Merchant, C Casa, Live Fire Pizza, Eiko's at Oxbow, Anette's Chocolates and Fieldwork Brewery, with more to be announced. The market is also making a separate donation and other Aussie surprises await guests.
"Australia is burning, to an extreme never seen before. Over a billion of Australia's unique animals have been lost in fires, 1000's of homes have been destroyed and over 17 million hectares of land (the size of Belgium and Denmark combined) have burned," stated Sally James, Napa Valley based food, wine and travel writer/author and native Australian. "Australian firefighters were here helping with the California fires, and firefighters from the US and Canada are currently in Australia supporting our firefighters and volunteer firefighting force, which we are most appreciative."
"The Napa Valley is unfortunately no stranger to the devastation caused by out of control brush fires," said Steve Carlin, Founder and Managing Partner of Oxbow Public Market. "We all remember 2017, 2018, and last year. We want to help, and we hope our entire community comes to the market this Sunday to show support for our friends down under as they deal with the enormous magnitude of these fires."
For more information on Oxbow Public Market, please visit www.oxbowpublicmarket.com.
###
(Images/renderings available upon request)
About Oxbow Public Market
Oxbow Public Market, located in the historic Oxbow District of downtown Napa, has become the local gathering place for great food and wine in the Napa Valley. The 40,000 square foot marketplace, which includes a scenic outdoor deck with seating along the Napa River, features a diverse tenant mixture of local food vendors, artisan cafes and an organic produce outlet for local farms. Oxbow Public Market is open seven days a week, from 9:00am to 7:00pm Monday through Saturday and until 6:00pm on Sundays. Some businesses (like the juice bar, coffee and breakfast spots and bakeries) open earlier and some (all restaurants) close later. It is recommended you check hours with individual merchants. On Tuesdays, all stores stay open until at least 8:00pm for Locals' Night. Closed Thanksgiving and Christmas only, with reduced hours on some other holidays. For more information, please call 707-226-6529, or visit www.oxbowpublicmarket.com.Media Contacts:
Oxbow Public Market:
Tom Fuller & Monty Sander
Fuller & Sander Communications
tom@fullerandsander.com, 707-253-0868
monty@fullerandsander.com, 707-253-8503
https://oxbowpublicmarket.com/wp-content/uploads/2020/01/OxbowAus-2-2.png
1080
1080
jill
https://oxbowpublicmarket.com/wp-content/uploads/2020/01/Oxbow_Logo.png
jill
2020-01-24 09:09:20
2020-01-24 09:11:24
Aussie Day at Oxbow