Whole Spice Moroccan Spiced Carrot Salad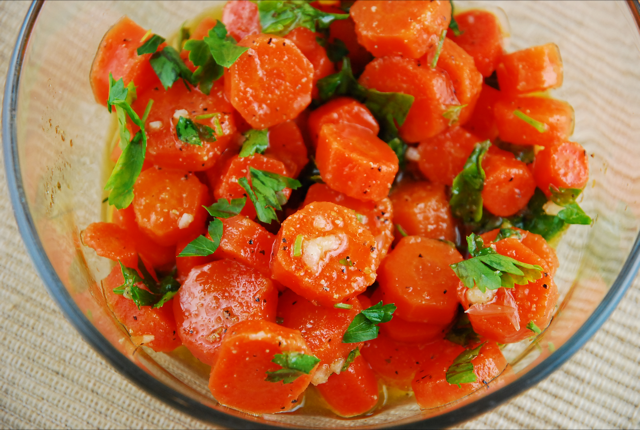 Whole Spice has all the spices you need to change up your cuisine for the spring season! Whether you like sweet, spicy, herbaceous, citrus flavor or a combination of all the above, Whole Spice has all the spices for your life!
Try this Whole Spice recipe for Moroccan Spiced Carrot Salad, a delicious warm side dish spiced with Harissa and Toasted Cumin! Enjoy!
Moroccan Spiced Carrot Salad
(Serves 2-4)
Ingredients:
5 medium-sized carrots, peeled
2 cloves of garlic, minced
1 Tbs. Whole Spice Harissa Coarse
1/4 tsp. Whole Spice Cumin Powder Toasted
1/8 tsp. salt
1/8 tsp. pepper
2 Tbs. olive oil
Juice of 1/2 lemon
1 tsp. water
1 tsp. chopped parsley
Directions:
Place water in a 3-quart saucepan and bring to a boil. Add carrots and simmer until they are tender when pierced with a fork, about 30 minutes. Cool. Cut carrots into bite-size pieces and place in a serving bowl. In a small bowl, combine garlic, harissa, toasted cumin, salt, pepper, lemon juice and water. Heat up a nonstick pan and add olive oil. Add the seasoning mixture to the pan, then gently fold the cooked carrots into the mixture. Simmer on medium heat, stirring until the carrots are coated with spice. Place in a salad bowl and add parsley.
https://oxbowpublicmarket.com/wp-content/uploads/2017/03/Morocan-spiced-carrot-salad.png
430
640
Holly Krassner Dawson
https://oxbowpublicmarket.com/wp-content/uploads/2020/01/Oxbow_Logo.png
Holly Krassner Dawson
2017-03-31 12:44:34
2022-01-10 10:12:30
Whole Spice Moroccan Spiced Carrot Salad