(707) 927-2409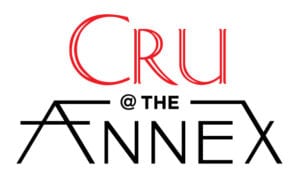 Eat, drink, and play where the tech world meets the wine world in a comfortable and casual setting. Enjoy a quiet oasis adjacent to the bustling Oxbow Public Market where you'll have the opportunity to taste wines from CRU and Estate portfolios. Order food from your favorite Oxbow merchant to create your own wine and food pairing or choose from a selection of flights and popcorn pairings. A curated hour of digital video content will complement the wine tasting experience in the cozy indoor space or you may choose to enjoy the scenery from the shaded outdoor terrace. CRU @ The Annex offers the opportunity to enjoy Vineyard 29 wines by the flight, glass, bottle.
Please email to inquire about special events.
The Wine
Vineyard 29 wines are offered in flights, by the glass and by the bottle. CRU @ the Annex is the only place to taste CRU Rose & CRU Merlot.
Flights
The Essentials, $29
CRU Sauvignon Blanc
CRU Pinot Noir
CRU Cabernet Sauvignon
Anything But Cabernet $40
Vineyard 29 Estate Sauvignon Blanc
Aida Estate Zinfandel
Vineyard 29 Estate Sauvignon Blanc
The Cabernets, $50
CRU Cabernet Sauvignon
AIDA Estate Cabernet Sauvignon
Vineyard 29 Estate Cabernet Sauvignon
Aida, $75
A three year vertical of Aida Estate Cabernet Sauvignon
V29, $75
A three year vertical of Vineyard 29 Estate Cabernet Sauvignon
By The Glass
CRU Sauvignon Blanc $12
CRU Pinot Noir $15
CRU Cabernet Sauvignon $18
By The Bottle
CRU Rose $29
CRU Sauvignon Blanc $39
CRU Pinot Noir $54
CRU Merlot $60
CRU Cabernet Sauvignon $60
Aida Estate Cabernet Sauvignon $250
Vineyard 29 Estate Cabernet Sauvignon $250
DETAILS
Hours: Daily, 11 am-7 pm