Gott's Roadside

Gott's Roadside never fails to knock our tastebuds off when it comes to their seasonal specials.
Their late summer line-up is begging to be ordered:
Heirloom Tomato "A" BLT
Thick slices of organic heirloom tomatoes topped with 6 pieces of crisp Zoe's bacon, romaine lettuce, Haas avocado & house-made lemon mayo on toasted sourdough bread.
Strawberry Lemonade
House-made lemonade with strawberry puree.
Mexican Street Corn
Grilled sweet California grown corn with mayonnaise, Cotija cheese, Asado seasoning & lime.
Their Oxbow Market location is open 11a – 8p for outside dining, curbside pick-up and delivery at www.gotts.com!
Hog Island Oysters
New hours! Get your oyster fill 6 days a week at Hog Island Oyster Co.! Now open Thursday through Tuesday (closed Wednesdays) for outdoor dining and take-out. The bar is open Monday, Tuesday + Thursday 11 – 4 and Friday, Saturday, Sunday 11 – 5. Come for the oysters and local seafood specials and stay for the summer weather and patio dining!
Keep up to date with all of Hog Island's happenings here!
Fieldwork Brewing
No outdoor adventure is complete without a 32oz Crowler of your favorite Fieldwork beer! Fieldwork Brewing Company is offering Curbside Pickup of all 32oz Crowlers as well as select 4-packs of 16oz cans from their Taproom in the Oxbow Market every day! From light to Belgian, to sour, hoppy, and dark, Fieldwork Brewing Co. offers a wide variety of constantly rotating brews for your adventures to-go…
Order freshly poured cans and crowlers for pick-up at www.fieldworkbrewing.com.
C Casa
NEW! Vegan Menu at C CASA
C CASA  is delighted to now be offering a dedicated Vegan Menu featuring Share Plates (including nachos!), Tacos and Salads (including the infamous Taco Salad!) all made from fresh ingredients in their Reimagined Mexican Food style. All of the salsas, vegan cremas and aioli are made in-house without preservatives–so simple yet so delicious. Non-GMO white corn tortillas are made-to-order for tacos, and the entire menu (both vegan and non-vegan) happens to be deliciously gluten-free!
Order online or enjoy at their outdoor cantina at www.myccasa.com.
The Model Bakery
The sweltering dog days of August deserve the ultimate icy treat – Stumptown cold brew here we come! Stop by The Model Bakery and sip some coffee-coolness on these warm summer mornings, or anytime you need a chilled, refreshing pick me up. Those who've had Stumptown coffee know just how good it is…discover it for yourself, you can thank us later!
Online ordering now available for quick pick-up at www.themodelbakery.com!
Bar Lucia
We've heard it described as summer in a glass, a grown-up slushie, and pure happiness. If you haven't tried frozé yet, it's time to head to Bar Lucia! Pair your favorite pink drink blended to perfection with an assortment of seasonal salads, sandwiches and small bites.
Take a peek at Bar Lucia's NEW menu and join us for the ultimate summer sips on the patio or to-go!
Kara's Cupcakes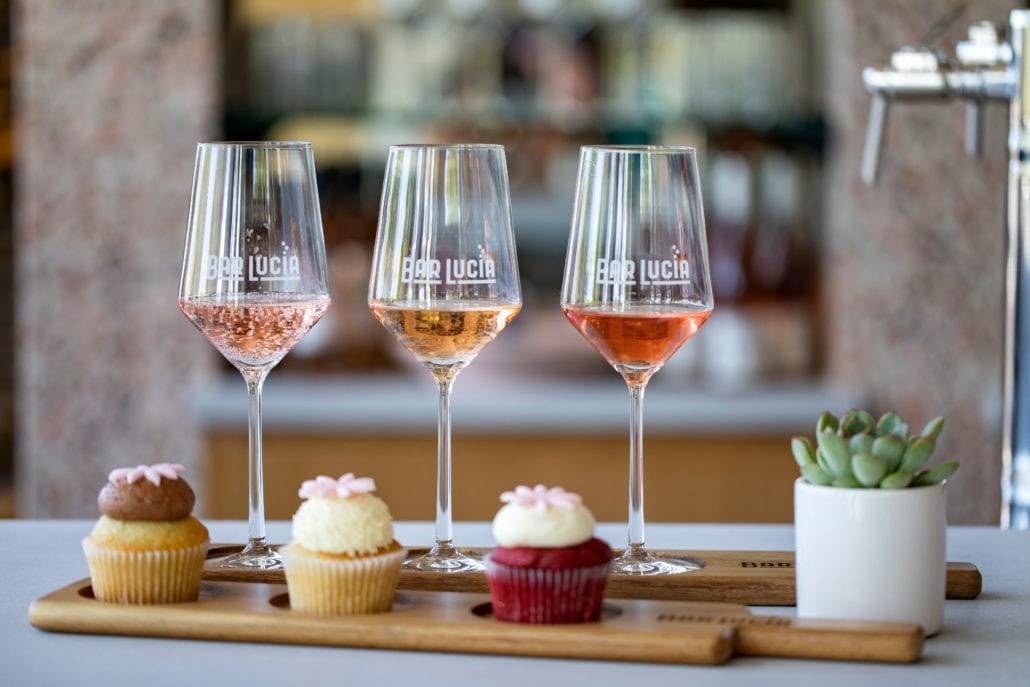 A great day is just a cupcake away! Kara's Cupcakes is serving up summer sweetness, including Strawberry Cream, Meyer Lemon, and Fleur de Sel alongside your year-round flavor favorites.
Order now for curbside, pick-up, or delivery!
Annette's Chocolates
SUNDAE,SUNDAE, SUNDAE! Whether it's #SundaeSunday or any old day, Anette's Chocolates sundae experience can now be enjoyed at home! Their curate kit is simply the best of the best from their menu — Anette's Hazelnut brittle pieces, mini choco chips, crunchy marshmallows, Salted Caramel, and Belgian Chocolate Sauce. BYOIC (bring your own ice cream) and you're ready to dig in.
Order now or pick-up at their Oxbow location:
Tuesday – Thursday: 11 am – 3 pm
Friday – Sunday: 11 am – 5 pm